Polenta with Tomatoe Basil Sauce and Poached Egg.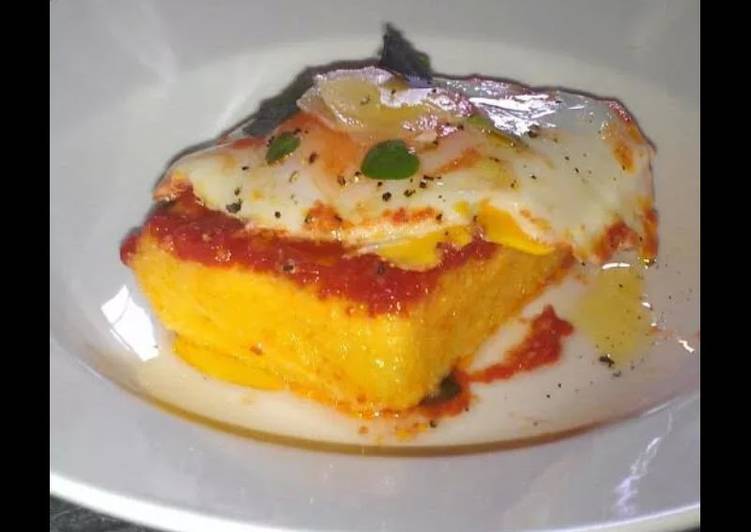 You can have Polenta with Tomatoe Basil Sauce and Poached Egg using 14 ingredients and 9 steps. Here is how you cook that.
Ingredients of Polenta with Tomatoe Basil Sauce and Poached Egg
Prepare 2 1/2 cup of chicken stock.
Prepare 3 cup of Polenta.
You need 80 grams of butter.
You need 1 tsp of salt.
Prepare 1/4 cup of parmesan cheese, grated.
It's 1/2 tsp of chilli powder.
You need 1/2 tsp of oregano, plus extra for garnish.
You need 2 tbsp of olive oil.
You need 1 large of garlic clove, finely chopped.
Prepare 1/2 of bottle passata suace (tomatoe puree).
You need 1 of handful of fresh basil leaves.
You need 4 of eggs (1 egg per serve).
It's 1 of hand full of shaved parmesan.
It's 1 of cracked pepper.
Polenta with Tomatoe Basil Sauce and Poached Egg step by step
In a saucepan heat oil and sauté garlic... add passata sauce and basil... bring to boil, then simmer for atleast 30 minutes until thickened.... set aside.
Preheat oven to 180 c.
Boil chicken stock in a medium sized sauce pan.....
Slowly poor in polenta while whisking in at the same time to combined.... continue to whisk add salt and butter constantly whisking.....
Polenta mix with become very thick... add Parmarsen cheese.... and combined... may need to change to wodden spoon... at this stage polenta should be a dough like consistently.... if not add a little more polenta until it comes together....
Put the polenta mix into a oven proof dish and firmly compact it down with the back of a fork... sprinkle oregano and chilli powder on top the spread a layer of passata sauce over the top.
Oven bake polenta for 30 minutes.... allow to cool slightly before cutting into 4 serves....
Poach egg just before serving... place the egg on top of the polenta top with shaved parmesan cheese, fresh oregano leaves and cracked pepper... enjoy.
.
Share this