Crockpot Red Beans & Rice.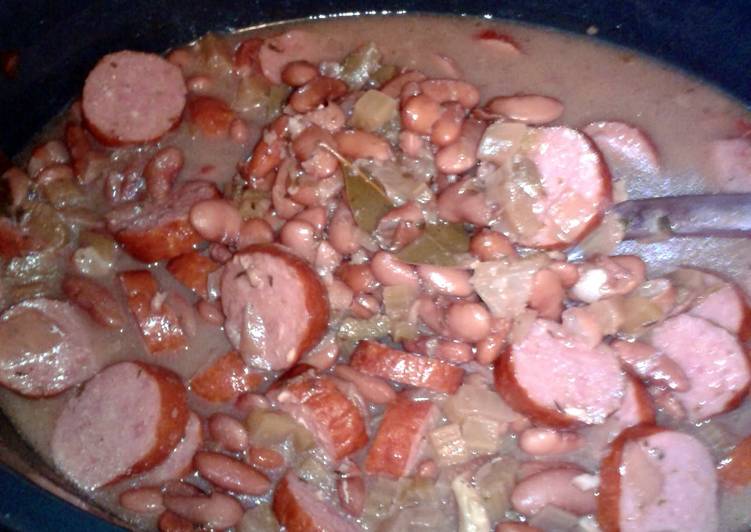 You can cook Crockpot Red Beans & Rice using 16 ingredients and 7 steps. Here is how you cook that.
Ingredients of Crockpot Red Beans & Rice
It's 1 lb of red kidney beans.
You need 7 cup of water.
It's 1 large of onion.
Prepare 1 of green bell pepper.
You need 2 of celery stalks.
You need 2 clove of garlic.
You need 4 of bay leaves.
You need 1/2 tsp of cayenne pepper.
You need 1 tsp of dried thyme.
It's 1/4 tsp of dried sage.
Prepare 1 tbsp of dried parsley flakes.
Prepare 1 tsp of creole seasoning.
You need 1 lb of beef sausage.
Prepare 2 cup of rice.
Prepare 4 cup of water.
You need 2 tsp of chicken base.
Crockpot Red Beans & Rice step by step
Fill crockpot with 7 cups water & add kidney beans.
chop: celery, bell pepper & onion and add to beans along with whole garlic cloves.
season with bay leaves, cayenne pepper, thyme, sage, parsley, creole seasoning.
stir all ingredients together and set crockpot to high and let cook 7 hours until beans are tender.
Add sliced sausage and cook 1 hour.
stir together 4 cups water and 2 teaspoons chicken base in with rice, put on high until boiling; reduce heat to simmer and cook 20 minutes.
Pour beans over rice and serve. Best with corn bread on the side.
Share this